Fundraising Campaign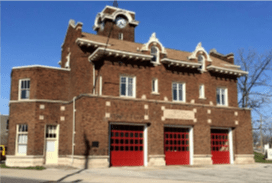 CENTRAL FIRE STATION, WELLAND, ONTARIO BUILT 1920
Central Fire Station is a unique example of an early 20th century Fire Hall in the Edwardian Classical style. It retains its fixtures and artefacts dating from its construction in 1920 and throughout its working life until it was decommissioned in 2006.
Central Station Education Initiative is a registered charity dedicated to restoring and revitalizing the station to transform it into a community centre with a main floor display of firefighting history and hall of honour for first responders and upper floors rental space for cultural groups, artisans and small businesses.
This fall, Central Station Education Initiative is launching a fundraising campaign to raise $600,000 to construct an addition with elevator and staircase to make the upper floors accessible and complete the project.
A message from Anna Olson,
Honorary Chair of Central Station Education Initiative's 2022 Fundraising Campaign:
"I have been familiar with this grand old building with its irreplaceable history of firefighting in Canada for many years and am pleased to lend my support to the Central Station Education Initiative's 2022 Fundraising Campaign.
This is a once in a lifetime opportunity to save a heritage building, preserving its history and once more transforming it into a thriving community hub."
To donate, please go to www.centralfirehall.ca or send your donation to Central Station Education Initiative, 30 Hellems Avenue, Welland ON L3B 3A7. To receive a Charitable Receipt for income tax purposes please include your full name and address.
We thank you in advance for your support!
Anna Olson one of the country's most recognizable television chefs. With almost two decades on Food Network Canada, with shows like "Bake with Anna Olson" and now series such as "Great Chocolate Showdown", her audience has expanded globally through broadcast television and her Oh Yum YouTube channel. Her latest book, "Baking Day", launched in fall 2020 and earned a Gold Medal at the Taste Canada Cookbook Awards. Many local charitable organizations benefit from her ongoing contributions to the community.